Greengold Timberland
­­
| | | |
| --- | --- | --- |
| #5 – Polk County, OR | #101 – Austin Hot Springs, OR | #161 – Wahkiakum County, WA |
Oregon and Washington Oral Auction – November 16, 2013
40± acre tract with 20 year-old Douglas-fir reproduction east of Green Peter Lake in Linn County, Oregon – $39,500
160± acre Mt. Horeb tract by Santiam State Forest with 25 to 45 year-old hemlock, noble and silver fir, in Marion County, Oregon – $175,000
32± acre tract with approved home site, with well and 16± acres of 15 year old Douglas-fir, next to vineyard, near Dallas, Oregon – $225,000
37± acre Umpqua River Valley tract with estimated 200± MBF of Douglas-fir, between Elkton and Scottsburg, in Douglas County, Oregon –

SOLD

38± acres with estimated 442± MBF of mature silver spruce in Pacific County, Washington – $163,500
40± acre tract with residential timber south of Spanaway in Pierce County, Washington – 

SOLD

160± acre tract with approved FPA to harvest 600± MBF in Whatcom County, Washington – Pending Sale
Sealed Bid Auction – November 20, 2013
151± acre Austin Hot Springs tract in Mt. Hood National Forest with over one quarter mile of frontage along Clackamas River, 117± acres of 15 to 25 year Douglas-fir and some residual red cedar and hemlock, in Clackamas County, Oregon – $475,000
148± acre Cole Farm along the Nestucca River, with 60± acres of pasture, water rights, 77± acres of 15 to 25 year-old alder, and residual Douglas-fir, alder, and cedar – $525,000
82± acre Stronghold Tree Farm with 1± million board feet of 40 to 50 year-old hemlock and alder, new 3 bedroom 3 bath home, plus garage, shop, barn, pasture. Along East Valley Road near historic Skamokawa, Washington – Available in its entirety, or in three parcels.
Bulk Price – $865,000
A  –  33± acre home / barn / pasture – $430,000
B  –  42± acre timber tract – SOLD
C  –  7± acre potential home site – $45,000
18,749± Acre Eastern Oregon Land Portfolio Auction Located near North Fork John Day River and Bridge Creek State Wildlife Area – Auction #1308
Sealed Bids Due – December 4, 2013
| | |
| --- | --- |
|   Desolation Creek – 13,440± Acres – Nine miles of Desolation Creek Tributary to North Fork of John Day River. Potential for development of private retreat with opportunity to obtain conservation values from a working forest easement. 35,700± MBF of primarily Douglas-fir and ponderosa pine, with significant growth projected within 25 years. | Wilkins Creek – 5,309± Acres – Well-blocked ownership with potential for private elk hunting preserve, with large flat meadow that could accommodate air strip, and spectacular views to North Fork John Day River Valley.  10,735± MBF of primarily Douglas-fir and ponderosa pine, with significant growth projected within 25 years. |
| SOLD | SOLD |
---
Auction 1304 Late Additions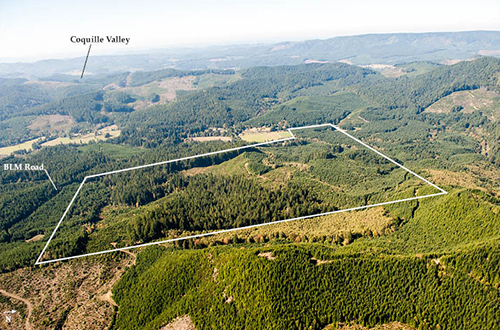 #167 – Coos County – 235± acre Cherry Creek Tract located near Coquille, with estimated 4,275 MBF and 78± acres of 7 to 15± year old reprod with 69± acres of 27± year-old pre merch. – SOLD
---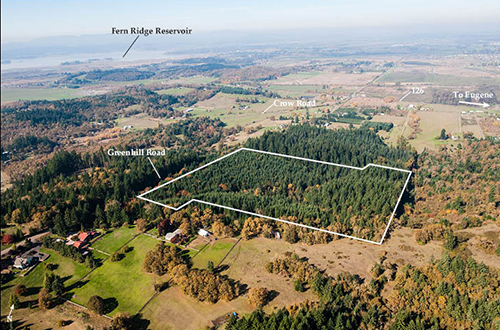 #168 – Lane County – 37± acre Greenhill Road Tract located five miles west of Eugene, with estimated 785 MBF, and potential view home site. – SOLD